Biography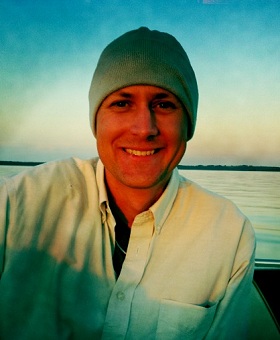 Name: Zach Tomaszewski
Email: zach.tomaszewski @ gmail.com
Current Academic Interests: Interactive narrative/drama, programming languages, computer game design, conceptual metaphor, information architecture/web design, WWW protocols.
Recreational Interests: Sleeping, table-top RPG rule-hacking, trying new beers, watching movies, building fictional worlds, playing old-school computer games, traveling, reading fiction, hiking barefoot, snorkeling, people-watching, keeping my computer tuned, adding to the WWW, day-dreaming.

Random Events from my Past:
I've flown ultralights, used an electron microscope, and dissected human cadavers.
As a child, I lived on a sailboat for a year.
In college, I participated in a 60-hour sensory deprivation experiment.
I've eaten crocodile.
I attended the WWW2002 conference.
I didn't finish 11th grade until October of my freshman year in college.
I have visited 29 countries.
(Australia, Austria, Canada, Cyprus, Djibouti, Egypt, England, Fiji, France, Germany, Greece, Hungry, Indonesia, Ireland, Italy, Kenya, Malaysia, Maldives, Mexico, Netherlands, New Zealand, Oman, Spain (Balearic Islands), Sudan, Taiwan, Turkey, UAE, USA, Yemen.)
I have a PhD.
Basic Timeline:
Sept. 1978
Born in Michigan, USA
1979 - 1983
Lived on the Chesapeake Bay, Virginia, USA
1983 - 1990
Lived in Abu Dhabi, UAE.
Attended a British elementary school.
1990
Lived on a 33-foot Hans Christian sailboat named Clove of Seasons.
Sailed from Abu Dhabi, around the Arabian Peninsula, up the Red Sea, to Turkey. Did 6th grade through a correspondence course.
1990 - 1991
Lived in Izmir, Turkey for 6 months, attending a US military school.
Made a trip to Manistee, Michigan for 6 weeks when buildings in our neighborhood were blown up by terrorists opposed to US involvement in the Gulf War.
1991
Returned to the sailboat and sailed to Spain.
1991 - 1993
Sold the boat and moved to Traverse City, Michigan, USA.
Completed part of 8th and all of 9th grade there. Made some very good friends; I have returned to Traverse City for at least a couple weeks every summer since then.
1993 - 1994
Lived in Bandung, Indonesia for 9 months.
Did 10th grade by correspondence course.
1994 - 1995
Lived in Traverse City, Michigan and Phoenix, Arizona.
Learned to fly ultralights in Phoenix. Did 11th grade by correspondence and fell far behind schedule.
1995 -1996
Returned to Abu Dhabi, UAE.
Did my senior year at the American school there. My parents still live there; I usually visit them once or twice a year.
1996 - 1999
Attended Alma College in Alma, Michigan, USA.
Completed my bachelors degree in Philosophy in 3 years. Joined Theta Chi fraternity during my last term.
1999 - 2000
Took a year off and spent it in Abu Dhabi, UAE.
Considered medical school, but realized that would be a mistake. Followed a long-standing love of books and a new interest in the Web into starting a career in information science. Also backpacked around Europe for a month with my best friend, B.
2000 - 2001
Moved to Honolulu, Hawai'i, USA.
Got my masters degree in Library and Information Science from the University of Hawai'i in a year and a half .
Met S.
2002 - 2011
Stayed on at UH to get a PhD in Communications and Information Science.
Served as a Teaching Assistant for the Information and Computer Science Department.
Into love with S. Into roleplaying games and interactive narrative too.
2011 - 2013
Stayed on at UH to get a MS in Computer Science.
Continued to TA for ICS, and then teach as an instructor.

2013 - ...
Moved to Palo Alto to work as the BD Professor at a cool tech company named Palantir.
Married S. in summer of 2014.
More pictures: Me, in Photographic Retrospect.
---